The Lorax and The Climate Change
3/29/2012 08:05:00 AM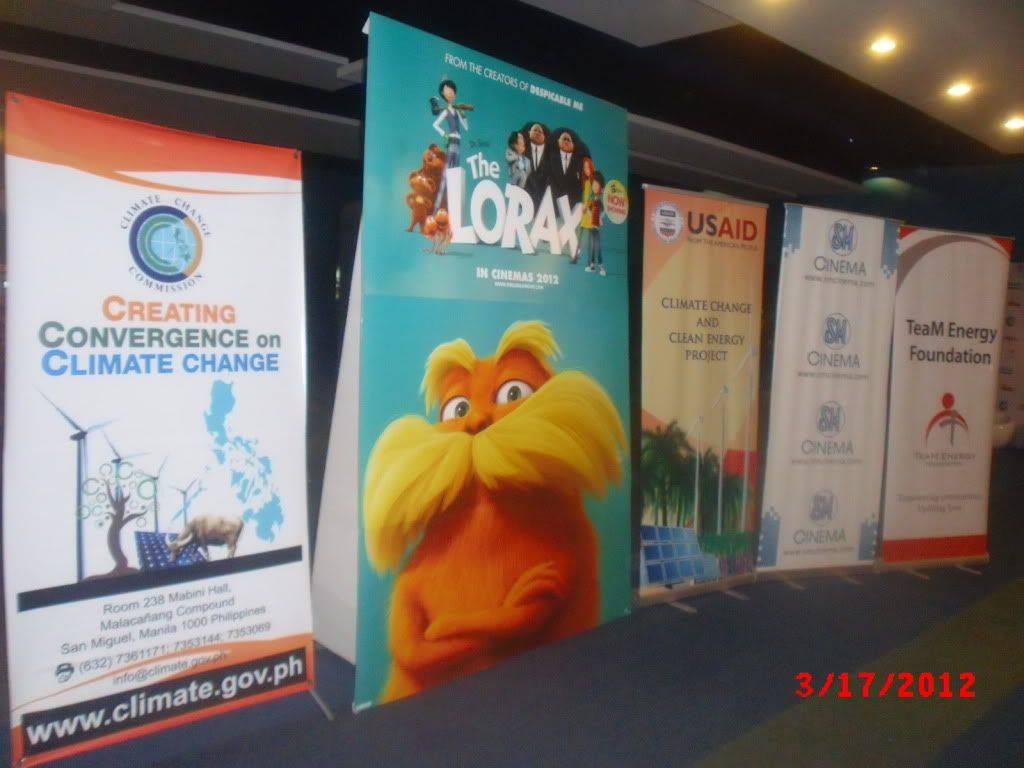 Gladly I was invited to watched the new video ads of the Climate Change Commission and of course watched the movie "The Lorax" on 3D. Together with my son we both enjoyed the movie. My son was very amazed with the RE Troopers.
The Lorax is one of Dr. Seuss classic children's book story and it was given life in 3D animation with wonderful new characters, including a boy, whose journey is to search for a magical creature that will win for him the affection of the girl he loves.
The Lorax' story centers on one of the most important issue of our time, saving our environment. It is set in an imaginary world that is polluted and grim, because of Once-ler, a strange creature obsessed in cutting "Truffula" or trees, thinking that this will help him craft "Thneeds", which he thought everyone will need. In the end, after realizing the sad consequences of his action, Once-ler gives the boy the last truffula seed and asked him to plaint it for trees and fauna to return.
The story of The Lorax is relevant today. virtually almost all of the country's ecosystems have been significantly transformed or degraded. Philippine ecosystems have changed more rapidly due to deforestation, pollution, urban congestion, marine and coastal degradation and loss of biodiversity, which have worsen the impacts of climate change in the Philippines.
"Trees are very important in the country's roadmap in the battle against climate change, they clean the air while at the same time serving as carbon sinks", Secretary Mary Ann Lucille Sering said.
The NCCAP, approved by President Benigno Simeon C. Aquino III November last year, has seven thematic priorities, one of which is Ecosystem and Environment stability. Environmental sustainability therefore means maintaining healthy and stable ecosystems, which is a necessity especially amidst changing climate.
"Adapting to climate change requires the action of everyone. We need to have everyone informed of what they can do to save the environment, and in the long run, the future generations. We have to act now if we want our children to have genuine trees in their time", she said.
In cooperation with the United States Agency for International Development (USAid), the CCC aims to share the morale of the story to young and old alike as they launch their video against climate together with the premiere of the movie.
The video will be shown in all SM and Ayala cinemas for one whole year.
"Our video will show that people from all walks of life should be involved in addressing climate change. Small actions count big, and collectively they can make an impact", she added.
"It's not too late. We still have genuine trees around us. Climate change is here and we need to adapt. Let's take care of the environment and we will be more climate resilient in the future," she said.