AyosDito.ph's i-Ball, Experiencing New Pinoy Lifestyle
6/14/2012 11:46:00 AM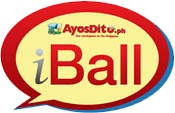 Pinoy's are now trending perhaps worldwide, from sports, fashion and to music. Not only have we dominated social meida sites like Twitter and Facebook, we have also taken on online classified ads sites like AyosDito.ph.
AyosDito.ph
, one of the preferred online classified ads for Pinoys by Pinoys and an awardee of the Digital Filipino Searchf Profile Index as the No. 1 Classified Ads website in 2011 had recently organized its very first Ayos Dito I-Ball. It is a blogger event attended of course by most of the currently active bloggers in the metro and was graced by GMA Channel 7's latest IT-Girl – model/ artist/ singer/ actress Solenn Heussaff and ABS CBN Channel 2's upcoming dramatic actor John Medina and was hosted by the funny yet naughty DJ of Magic 89.9 Tony Toni at the COWO Asia in Ortigas Center, Pasig City.
John Medina, Selenn Heussaff and Tony Toni
Find a great deal which helps bloggers familiarized more with the searching process at the AyosDito.ph's website is just one of the games played at the event. Foods were also served during the event and it did have a twist in it like the Tuyo Pasta and the Angus Corned Beef Pan De Sal. I'm not much of a fan of this foods but at least I've tried tasting it. Also I get to taste the unusual ice cream offered by Sebastian, the Champorado and Sapin Sapin flavors. It was a night of fun, games, food and different treats from
AyosDito.ph
.
Words from AyosDito.ph's top brass.
"Ayos Dito I-Ball, is a blogger event that celebrates the fun and unique Filipino lifestyle, that is reflective of how people buy and sell online. Buying and selling online with AyosDito.ph is free, easy and hassle-free, just how we Pinoys like it."
says Jon Santico, General Manager of 701 Search Inc. the company behind the site.
"This event is also to sya thank you to the community closest to our hearts. Bloggers who have experienced using the website have shared their hassle-free shopping experience online, and were instrumental in bringing other users to our site."
Santico added.
Tanya Cabbab, AyosDito.ph's marketing manger shared
"Aside from having the chance to get to know the AyosDito team and learn more about the side and what wer about. We hope everyone has a great time, simply hanging out with us and enjoying the food, the games and the raffle prizes."