Join Isa, Dalawa, Takbo a Run For Children's Rights
6/07/2012 10:09:00 AM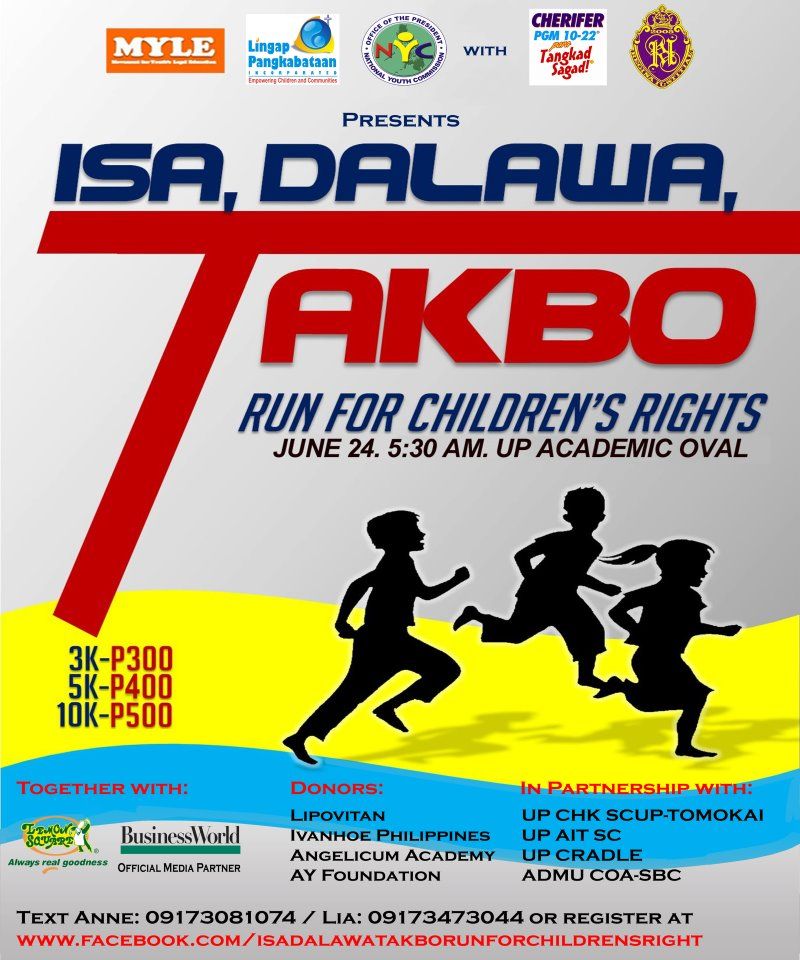 To all running buff, fun run enthusiasts, health conscious, and just want to help, we are calling out for you to participate on June 24, 2012 at 5:30 in the morning whether you're a kid, young people, people with a big heart for children to be part of
Isa, Dalawa, Takbo: Run for Children's Rights
at UP Academic Oval, UP Diliman. As an advocacy event of
MYLE
and
Lingap Pangkabataan
, it aims to:
To raise child rights advocacy spirit among its partner communities- academe, young people, adult, social development, churches, parents in a creative and fun event.
To encourage greater public awareness and social investment on children- where every child could fully develop and participate in putting place an environment that respect and celebrate their full potential. There will be:
3K, 5K, and 10K running, jogging and walking around the university oval
Advocacy presentations from Lingap children's advocacy groups, Ateneo- Performing Arts groups and other partners
Running Pack – singlet, number and other freebies
Child rights advocacy booths and food stalls
THE ORGANIZERS
The
Movement for the Youth's Legal Education (MYLE)
is an organization in the UP College of Law that seeks to provide legal education primarily for children, and secondarily for the children's families and their educators towards a holistic formation of the Filipino youth. It aims to provide awareness to children of their basic rights through classroom activities, lectures and workshops. MYLE also seeks to serve as a venue for students of the law to engage in a pro-active approach to learning laws pertaining to children's rights.
Lingap Pangkabataan Inc.
is one of the social development organizations in the Philippines whose primary mission is to lead in child- advocacy efforts. As an organization or a network member, Lingap has been at the forefront of community education, awareness- raising, lobbying and other advocacy activities upholding the rights of children and promoting child protection.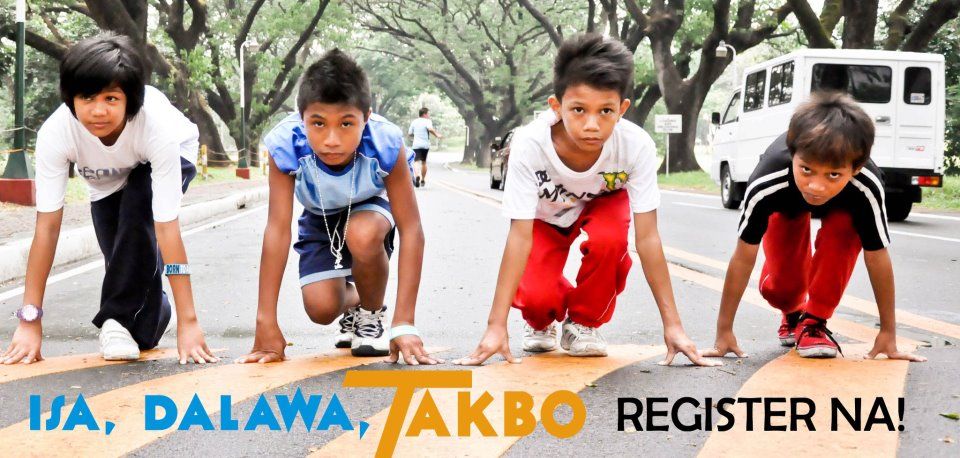 PRE- REGISTRATION MECHANICS
A. FUN RUN PARTICIPANTS
1. Isa, Dalawa, Takbo: Run for Children's Rights is open to all child rights advocates/ supporters and fun run enthusiasts.
2. To join, participants must secure a PRE-REGISTRATION FORM from designated pre- registration stations:
(1) Lingap Pangkabataan- Cubao Office

158 Ermin Garcia St.

, Cubao, Quezon City

Russel, Cathy, Ruby, Ryan



For downloadable on-line registration forms, visit
www.facebook.com/isadalawatakbo
.
3. Submit duly accomplished registration form and pay required registration fee. The Pre- Registration Volunteer will facilitate registration process by enlisting the participant in the pre- numbered SUMMARY LISTING according to category and assigning a runner's number.
The '
Fun Run Kit Stub
' will serve as the receipt of the participants.
For participants who will undergo on-line registration, payments can be deposited thru the following bank accounts:
Bank Account No : Banco de Oro 401-001-8286
Bank Address : New York-EDSA Branch
Account Name : Lingap Pangkabataan Inc
or
Bank Account No : Metrobank 056-3-05651302-8
Bank Address : Aurora Boulevard
Account Name : Lingap Pangkabataan Inc
Deposit slips should be emailed to
takbo_lingap@yahoo.com.ph
or faxed to 912-4225 together with the duly accomplished pre-registration form. Lingap will then send the
FUN RUN KIT STUB
with the registration number thru email.
4. FUN RUN KITS (singlet, runner's number, baller and other freebies) will be made available two weeks before the event. Registered participants can claim the kit at their PRE- REGISTRATION STATION by presenting their Fun Run Kit Stub.