Jake Cuenca Is My View's Brand Ambassador
7/18/2013 09:51:00 PM

Products, quality, features, warranty are those information needed if we are looking for specific things that we are going to buy. In addition to those, Celebrity Endorser is now a big impact to all consumers who's consider in choosing and buying products.
Recently, I was able to witness the contract signing between Jake Cuenca and the executives of My View which was held in Fairmont Hotel in Makati. Jake Cuenca is the newest celebrity endorser of the said company, he is one of the hottest and in demand actors of this generation. The actor, whose last successful primetime soap was "Kahit Puso'y Masugatan", is raring to be back on TV again and is currently busy taping for ABS CBN's new soap Maria Mercedes, this time with Jessy Mendiola as his leading lady. Three of his movies will be seen this year - Tuhog on July 17, Lihis and El Bruho. He will also be doing Status Complicated and Nagalit ang Buwan sa Haba ng Gabi.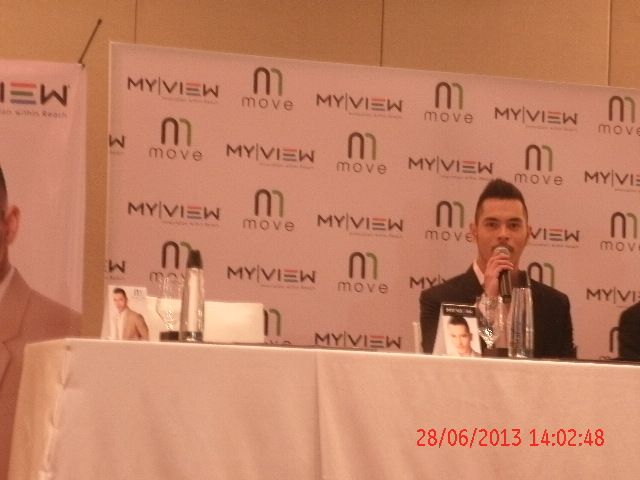 While MY VIEW products are made in the Philippines, aims to improve the lives of their customers by creating high quality and user friendly products at an affordable price. MY VIEW's list of quality products include 24', 32'. 40'. 42', 46' LED and Smart TVs. Also part of the MY VIEW family is MOVE, the most affordable brand of Android-based Tablets. Fun and functional. According to them there's definitely a MOVE Tablet that's right for ones lifestyle. MOVE also has PLAY a game console and its dual SIM cell phone AXIS.
The real story was that Jake Cuenca was looking for a television set to give as a gift to his mom in one store. It was among the very first weeks My View TV is available for purchase to the public. He bought the 32-inch LED My View TV and as soon as the store personnel almost completed wrapping his new appliance, a representative from My View TV approached him. He was offered an endorsement deal. Jake Cuenca is very thankful to become the first Celebrity Ambassador of the Electronics brand. The actor embodies the modern Filipino who make wise yet practical choices in life, including the electronic gadgets he uses which makes him MY VIEW's ideal endorser.
As a matter of fact, my brother Jefferson Montas aka Justin Pur Ril Yang of http://justtinlife.blogspot.com won a MOVETAB MA701 in one of the FB contest of MY VIEW. According to my brother MOVETAB is very user friendly, it is very handy. He really enjoy the games, taking pictures all the time and with the WIFI features it is easy to use in surfing and browsing online.
So to those mommies who wants to buy gadgets for your kids, choose MY VIEW a very affordable price to fit on the budgets.