Magnolia Chicken Deliteful Day, Experienced!
7/26/2013 07:59:00 AM
Let's talk about chicken this time my dear readers. As we all know, chicken is well known and loved by kids but of course adults as well plus it is good for those who's into diet.
In terms of brand, Magnolia has been the most popular when it comes to chicken. Through the years they serve the very fresh and safe chicken. The brand has a great mark on consumers, especially when they have introduced the Magnolia Chicken Station in 2004 in the fresh sections of supermarkets.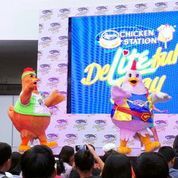 The stations allowed the consumers the freedom to buy fresh chicken either in bulk, by the piece or by 100 grams, and to choose specific cuts for themselves. It seems that the concept gave consumers a choice to buy chicken which depends on their needs.
All Magnolia Chicken Station products are freshly-made in the outlets, ensuring customers that the products they purchase are guaranteed fresh, safe, and of premium quality- certified Alagang Magnolia. Apart from the available whole chicken and choice cuts, more customized cuts and formats such as fillets, deboned whole chicken, ground chicken, and other dish-specific chicken cuts (adobo, tinola, recado, menudo, etc.) are now conveniently available in the Magnolia Chicken Stations. In addition, its Cook-easy line-up, special, marinated cuts in a variety of flavors such as Chicken Teriyaki, Inasal, Korean BBQ, Breaded Chicken Fingers, and Savory Fried Chicken, to name a few, are also popular choices among consumers.
Recently Magnolia has a delightful news for the consumer, they launched Manolia Chicken Station Lite (MCS LITE)v- a healthier line of fresh chicken products. Magnolia Chicken Station Lite products come from leaner and "healthier" chicken parts or products. The current MCS Lite product line-up includes the high protein, less fat Magnolia Free Range Chicken, as well as lean, skinless breast cuts like breast fillet, chicken strips, chicken chunks, and lean ground chicken! The brand is also set to introduce a healthy cook-easy line, lean cuts lightly marinated in natural herb and fruit-based flavors that can be used for salads, pastas, and sandwiches.
The event was a remarkable one, they introduced the products to all mall goers in SM Mall of Asia through different activities such as the wellness seminars, free nutrition consultation, Healthy cooking demonstration and booths to enjoy the freebies from Magnolia.
The event hosted by Ms. Angel Aquino, an actress and a mom as well. She gave insights on how to serve delicious and nutritious food. While Ms. Llena Tan-Arcenas RND, MSN, RN, In-House Nutritionist of San Miguel Pure foods did the wellness seminars. The topic were very useful to all moms like me, although there are daddies also present in the event and guess what, they were participating more than the mommies, and were more in focus on all topics that were presented.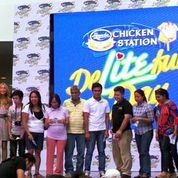 There are lots of helpful information given by Ms. Llena. She talked about the Good Nutrition and gave some enlightenment on our usual doings in the house. I have learned that the amount of food particularly the rice is the size of your fist, yes, it should be and that's according to her. Well, I realized that I ate too much, hahaha. She enumerates also some of the benefits of the foods that we take. She talked also about the proper practice on food safety, she presented it through her improvise refrigerator. I realized that the left over food should be in the chiller or below the freezer, I used to put it anywhere in the ref, hahaha. Another learning moment.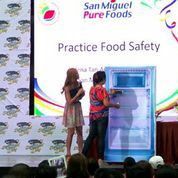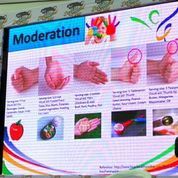 It's now easier to be fit, fab, and deLITEful all the time with Magnolia Chicken Station LITE -- the healthy chicken line! Magnolia Chicken Station Lite is exclusively available in major SM Supermarkets.
Here are the sponsors and booth joined the #DeLITEful Day event: Fitness First, YSA Botanica, Taylor Tyler, My Great Food Club, San Miguel Pure Foods and the Magnolia Chicken Station raffle booth.