Magical moments come to life with John Lloyd
7/12/2013 12:12:00 AM
Are we having a magic in our life? Well, let's be thankful that every time we woke up in the morning, it's really magic! And here's something that I would like to share to you and find out what's the magic that I'm talking about. Perhaps a little enlightenment of what's the buzz about Magic Flakes and of course one of the hunkadoodle dude, John Lloyd and what magic they bring into our lives.
So here's the word from them and what it is all about. Just scroll down more and read....
Jack 'n Jill Magic continues its partnership with celebrity heartthrob John Lloyd Cruz as it launches a new campaign that highlights life's little surprises. "When it comes to bringing magic on and offscreen, John Lloyd is everyone's go-to leading man," said Magic Marketing Director Chris Fernandez. "We feel that he can even take it a step further by turning the mundane into something magical for just about anyone." The campaign is all about experiencing the unexpected and being swept away by those delicious little moments that just drop in out of the blue, and turn your ordinary day into something magical.
Very much the leading man, John Lloyd charms his female co-stars
in the commercial series for Magic's latest campaign.
Not just on TV.
One evening, while waiting for her Cebu Pacific flight to Hong Kong, OFW and mom Ma. Luisa "Malou" Alicaway found herself sitting beside a handsome and familiar man, who offered her Magic Flakes while he chatted away. It took her a few seconds to realize that everyone in the pre-departure area was watching as John Lloyd Cruz tried to strike up a conversation with her. Malou couldn't help but blurt out "Makita lang kita masaya na ko, Magic na eh! ("Just seeing you already makes me happy. It's already Magic!")
Before they parted ways, the charming actor awarded her with a special gift: a "Kabuhayan Package", which consisted of P50,000 worth of Universal Robina Corporation (URC) products.
"Alam ko ang storya mo ("I know your story")," he told her. The whole encounter left Malou teary-eyed and nearly speechless. "I have no words to express how thankful I am to URC for giving me something I never even asked for, much less expected," she said.
Having worked abroad in several countries like Dubai, Taiwan and Oman for about a decade, Malou revealed that going overseas for a job is the best way for her to support her four children, two of whom are still in school.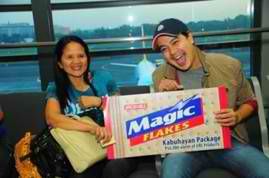 Magic endorser John Lloyd Cruz surprised single mom Malou Alicaway
with a P50,000 Kabuhayan Package.
A few days later, the URC team visited the Alicaway home in Quezon province to deliver the Kabuhayan Package. Manny, Malou's eldest son, shared that the Kabuhayan Package wasn't just any kind of blessing
i
t was exactly what they needed to bring back their once-thriving sari-sari store, which had to be put out of business after their dad's accident. "We wanted to give the campaign another dimension by taking it beyond TV. We wanted it to touch the lives of actual people, so we're bringing the magic to other areas in Metro Manila," said Chris. "Who knows… one of these days, you might just bump into Magic and John Lloyd in your neighborhood or workplace."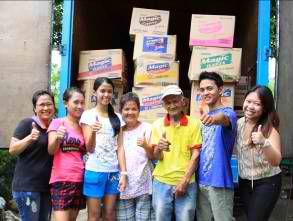 The Alicaway family enjoys a Magic-filled day with the URC team,
who handed them a P50,000 Kabuhayan Package.
So how was the reading? Hope that you've been informed about Magic Flakes and of course John Lloyd's quest of encouraging people to continue patronize the biscuit as it gives magic in every bite.