Roller Coaster Finger Sports Mania
2/18/2014 04:49:00 AM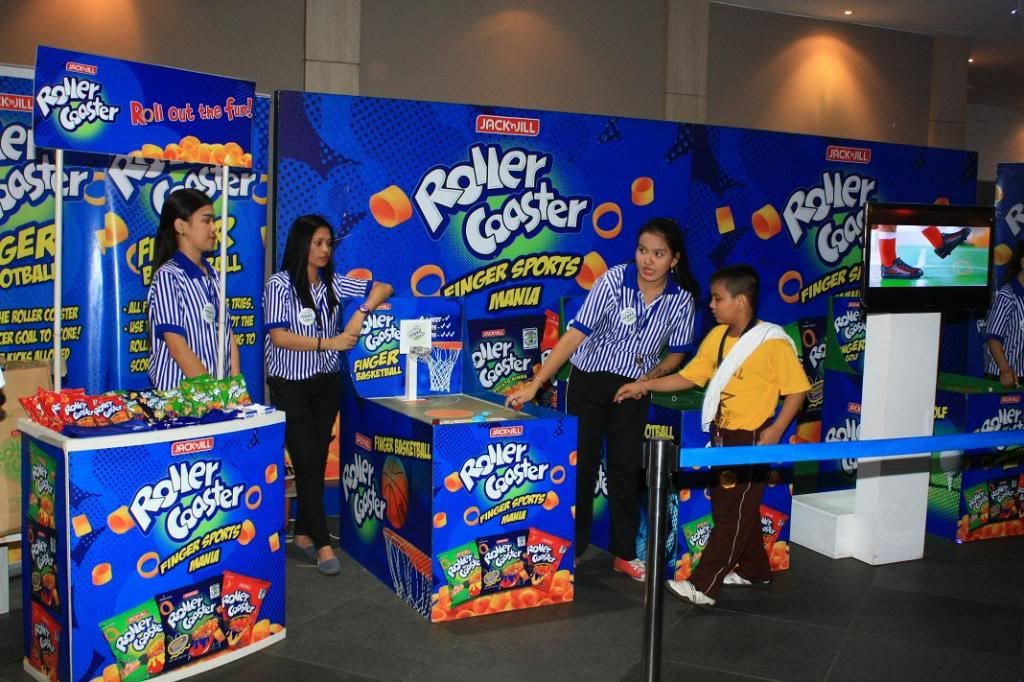 The Roller Coaster Finger Sports Mania packs maximum fun in a mini-sports arena.
Jack 'n Jill Roller Coaster fuels the fun during kids' playtime with their latest activity, Finger Sports Mania. By using the iconic potato ring as the ball for tabletop versions of basketball, football, golf and bowling, Finger Sports Mania provides massive entertainment in a mini-sports arena. The first Finger Sports Mania tour in Metro Manila gave kids an awesome mini-sports experience at select schools and a two-day blast at the Manila Ocean Park and Star City. Now, Roller Coaster is set to take kids on a roll once more as it launches the second wave of its Finger Sports Mania tour in select schools and venues all around the country.
Children and grown-ups can check out this novel activity in key areas around the country such as Abreeza Mall in Davao on February 22-23, Limketkai Mall in Cagayan De Oro on March 1-2, as well as Festival Mall in Muntinlupa and Gaisano Mactan in Cebu both on March 15-16.
Turn your fingers to world-class sports players at Roller Coaster's Finger Sports Mania.
"The concept behind Finger Sports Mania was inspired by the brand's latest TV Commercial (TVC), 'Freestyle,'" says Group Product Manager Ara Pascual. "The commercial shows how fun a Roller Coaster snacking experience could be, and how creative kids can get. With Finger Sports Mania, we're hoping to share fun and creativity with as many youngsters as possible." Using only their fingers, kids can shoot hoops and goals, ace holes and drive strikes with ring-shaped "balls" to receive Roller Coaster snack freebies and special items. Those who prefer lighter action can have their hands painted with awesome and colorful designs.
Be sure to catch Roller Coaster mini-sports arena as it rolls out the fun during playtime at the Finger Sports Mania tour!
Kids' imaginations run wild with the help of Roller Coaster.